The SAR Incident Management Platform
What We Are
SARCALL is the leading Multi-Agency Search and Rescue (SAR) Incident Management Platform used by UK Mountain Rescue, Lowland Search, Cave Rescue Teams together with large numbers of Police Forces, Ambulance, Helimed and other Agencies.
With more than 28,000 land UK and RoI Search and Rescue operations managed via SARCALL, it is trusted by 135+ SAR Teams/Groups, 17 Police Forces, 5 Regional Ambulance Services, 4 Helimed Organisations and the RAF Mountain Rescue Service to help deliver their SAR operations.
What We Do
Through alignment with the key JESIP principles of Interoperability, Communication, Coordination and Shared Situational Awareness, SARCALL delivers a highly robust, secure and efficient platform for managing operations varying in scale from single Team to large Regional operations such as wide-area flood events.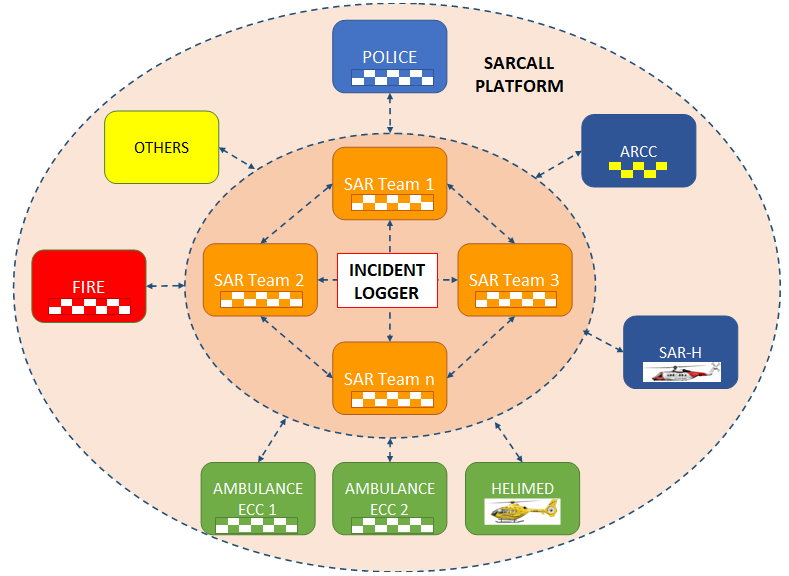 How We Do It
Through the secure web interface and extensive SMS capabilities, SARCALL enables Users to easily interact with a range of client devices such as smartphones, tablets, PCs and terminals to suit the particular operational requirements.
Some Category 1 and 2 Users Of SARCALL
North Wales Police, Cumbria Police, Police Scotland, North Yorks Police, NPAS, RAF Mountain Rescue Service, North West Ambulance Service, Welsh Ambulance Service, Great North Air Ambulance, Yorkshire Ambulance Service, Emergency Medical Retrieval Service (Wales), Greater Manchester Police, Cumbria Fire And Rescue Service, ARCC at the HMCG NMOC.
Some SARCALL Facilities
Multi-Agency Incident Log enabling sharing of situational awareness amongst authorised Users together with the upload of files, images documents etc., into the log records.
An extensive SMS selective group messaging engine enables robust delivery of your critical messages to the right people.
Detailed per-Team contact lists enable easy communication to Team leaders and access to key information about the Teams.
An OS mapping engine enables viewing of GPS-tracked Team assets down to street level.
---
Contact Us
For more information please email us at:
Send Mail
©2022 SARCALL Ltd. Registered Company No. 08655590 in England and Wales.